Computer Software for Steel Professionals
Structural Material Manager Version 14.0 Upgrade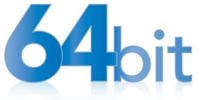 Introduction: 64-bit Windows is now the operating system of choice as new computers replace ones that were based on 32-bit Windows. Accordingly, the Structural Material Manager software has been upgraded to a 64-bit platform.
History of Platform Support: Structural Material Manager has a rich history spanning many decades. Here is a timeline of the software's major architectures through the years:
1985: 8-bit Commodore-based system released
1987: 16-bit DOS-based system released
1998: 32-bit Windows-based system released
2014: 64-bit Windows-based system released


Performance: It interesting that the 64-bit editions of Windows can actually move 64 bits of data faster than they can move 32 bits. The reason: both the computer hardware and the Win64 operating systems are optimized for 64-bit transfers. That advantage is lost, however, when 64-bit Windows is forced to run 32-bit software. Optimal performance is obtained only when running modern, 64-bit software that is designed to take advantage of the operating system's architecture.
A user running 64-bit Windows - whether it's 64-bit Vista, 7, 8/8.1 or 10 - can thus rest assured that the latest Structural Material Manager package is taking full advantage of all the power the computer has to offer. There is no longer a need to settle for running 32-bit software on a modern, 64-bit platform.
Automatic Fallback to 32-bit Mode: We understand that not every computer currently has 64-bit Windows installed. For instance, Windows Vista, 7, 8/8.1 and even 10 all come in both 32- and 64-bit editions. Accordingly, 64-bit Structural Material Manager still includes a 32-bit version. The best part of this dual-architecture strategy is that neither the end-user nor I.T. personnel have to do anything to decide which version to install or run. Both 32- and 64-bit versions are always installed, and the appropriate version is automatically chosen at runtime. Even in a network scenario in which some machines have 32-bit Windows and others have 64-bit Windows, the correct Structural Material Manager edition for each particular user is automatically launched.

Upgrade Price Quote and Ordering Info: If you are an existing customer with an older Structural Material Manager version, please e-mail us at Sales@ejeindustries.com to obtain a price quote on the latest upgrade. You can then use the Online Upgrade Order Form to conveniently place the order for the latest Structural Material Manager upgrade.
Other Upgrade Versions: This page specifically covers Version 14.0 upgrade features. For information concerning other upgrade versions, visit our main Structural Material Manager upgrade page which contains links to pages describing improvements in each software release from Version 10.1 (circa 2007) to the present.