Computer Software for Steel Professionals
Structural Material Manager Version 15.2 Upgrade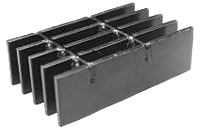 Introduction: Version 15.2 is the third installment in the 15.x-series of Structural Material Manager releases. It adds a Mid-Ordinate Rise (Camber / M.O.) field for plates, expands the Mill Mark field, and adds numerous heavy-duty Bar Grating sizes.
Mid-Ordinate Rise (Camber / M.O.) for Plates: Since its release in 1985, the Structural Material Manager software system has supported the concept of camber. The software accepts a value between 0" and 16" to indicate the upward curvature of a member to compensate for load deflection.
Through Version 15.1, Structural Material Manager's camber field applied only to beams and channels and was primarily used for wide-flange beams (W Shapes). With the release of the Version 15.2 upgrade, the software's Camber field has been extended to also include plates and checkered plates.
Camber in the context of plates is typically referred to as M.O. which stands for the "mid-ordinate" or "mid-ordinate rise." It is basically the camber measured at the plate's midpoint. Structural Material Manager's Camber field has thus been renamed as "Camber / M.O." so it is correct both when referring to lineal items and plates.
The software is of course used by many different types of fabricators. It is the fabricators involved in bridge work that are expected to most often utilize this new plate-based Camber / M.O. capability.
Expanded Mill Mark Field: Dating back to the system's 1985 release, the Mill Mark field always contained a maximum of (6) alpha-numeric characters. With the 2016 release of Version 15.2, this has been increased to an 8-character limit. This seemingly minor expansion is of great benefit to fabricators receiving bills of material that now pack extra information into the Mill Mark field.
Addition of Heavy-Duty Bar Grating Sizes: Whereas Structural Material Manager has supported Bar Grating for many years, its internal size tables listed only light-duty Bar Grating. Light-duty grating is defined as that which has 3/16" or thinner bearing bars. The software now also recognizes Bar Grating with 1/4" or thicker bearing bars with such sizes considered as heavy-duty grating.
Mesh types such as 19-H-4, 15-H-2, etc. where the H means "heavy" can now be used for such items. This is completely optional so that you can specify heavy-duty grating either using "normal" mesh types such as 19-W-4 or the heavy-duty specification such as 19-H-4. Both designations are frequently seen in industry, and item weights, surface areas, etc. are unaffected by your choice.
Upgrade Price Quote and Ordering Info: If you are an existing customer with an older Structural Material Manager version, please e-mail us at Sales@ejeindustries.com to obtain a price quote on the latest upgrade. You can then use the Online Upgrade Order Form to conveniently place the order for the latest Structural Material Manager upgrade.
Other Upgrade Versions: This page specifically covers Version 15.2 upgrade features. For information concerning other upgrade versions, visit our main Structural Material Manager upgrade page which contains links to pages describing improvements in each software release from Version 10.1 (circa 2007) to the present.