Computer Software for Steel Professionals
Structural Material Manager Free Demo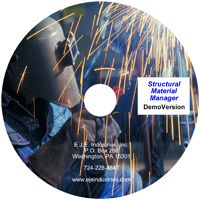 We'd like to send you a free, no-obligation demo kit so you can see first-hand how the power of Structural Material Manager can make your work easier!
Unlike some software demos that simply "entertain" you by running non-interactively, the Structural Material Manager demo cannot be fully appreciated by simply inserting a CD in the computer and watching the screens flash by. We have gone to great lengths to bring you a much more informative demo than such a simulation could provide. With the Structural Material Manager demo, you get to "try before you buy". Here's how it works:
The Structural Material Manager demo is identical to the full system with one exception: it expires after producing 25 reports. Until the time 25 reports are printed, demo recipients have access to the same package as a customer who has purchased the system.
To qualify for a free demo, you must be a steel professional, specifically a fabricator, supplier, or detailer, in the United States, Puerto Rico, Canada, or Mexico. Orders outside of North America are not being accepted at this time.
Simply fill out our on-line demo order form to order the demo kit. It includes the demo program CD as well as some printed materials. It will be shipped via U.S. Mail within one business day and should arrive is less than a week. The demo kit is provided without charge or obligation, and there's no need to return it when your evaluation is complete.
If you'd rather get started immediately without waiting for a demo CD to arrive in the mail, you are invited to download a Structural Material Manager demo from our FTP site. The demo offered there is 100% identical to the one supplied on CD. Click here to download it instantly.
Every Structural Material Manager demo - whether ordered as a complete demo kit that arrives in the mail or downloaded instantly from our FTP site - needs to be activated. This is not done during installation but, rather, the first time the demo is run after being installed. The newly-installed demo pops up a Demo User ID Code the first time you run it, and that code is to be supplied to E.J.E. Industries. We then reply with a corresponding Demo Activation Code within one business day, and you enter that code to unkey your demo. You can use our on-line demo activation form to submit your Demo User ID Code if you wish, but all modern demo versions contain a built-in dialog for submitting the code directly from any Internet-connected PC. So, the on-line demo activation form should only be needed if you are activating an older demo version or if you need to activate a demo on a PC that is not connected to the Internet.